News
The Gospel is STILL Relevant
by John Collins on Mar 8, 2016
People keep asking, "How did you feel as you watched the AT&T stadium fill to overflow capacity?" The simple answer was, "amazing and overwhelming," but those words were a mask of hyperbole hiding what my heart told me – which was "finally!"
You see, there have been many, many nights over 27 years in other much smaller arenas, where we have labored as hard, prayed as fervently, and yet looked up to see many empty seats. In those moments, I would reflect of the opportunity that was lost and it would always leave an empty feeling in the pit of my being.
But not this time, not in this huge, magnificent stadium and home of the Cowboys, not in Dallas /Ft Worth! This time, as ONE church we stood shoulder to shoulder in ONE moment – with every seat taken, with thousands of others who couldn't get in – with Christians who believed the proclamation of this ONE gospel to be necessary, even vital.
That is what made Harvest America, March 6th, a most satisfying evening. Could it be that it marked a moment in time where the church in America decided once and for all that it is the message of the gospel that will turn our nation toward righteousness, that it is the gospel alone that will bring social justice, that it is the gospel that fosters lasting hope in the hearts of men?
Not only were each of the 82,000 available seats in the stadium filled with people attentive to hear Greg Laurie explain what it means to follow Jesus, but some 2,000 churches around the nation held Harvest America events in their churches and live-streamed that same message into their sanctuaries. And while they did that, another 4,000 or more small group host venues gathered in living rooms and café's and assorted places where only a Wi-Fi connection was necessary to bring that same message to the ears of their guests.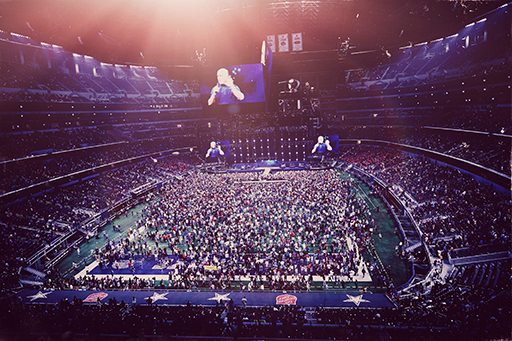 All told, over 6,300 people made professions of faith in Christ in the stadium setting, while thousands of others made similar professions of faith in living rooms and churches around the country. This is what can happen when Christians boldly come forward to stand with the apostle Paul and say "I am not ashamed of the gospel, IT is the power of God unto salvation." This is what happens when the church grabs hold of the idea that is "through the foolishness of the message preached (proclaimed, heralded, broadcast!) that God has chosen to save those who would believe!"
Some will still say the days of large scale "mass evangelism" are dead. It is only dead in their hearts and in their minds. Others will say these big events are not effective, that most of these decisions will not last, I will say, "How then shall they call on Him in whom they have not believed? And how shall they believe in Him of whom they have not heard? And how shall they hear without a preacher?"
I do not, will not, give consent to the idea that proclamation of the gospel in the public arena is passé' or dead. On the contrary, it is very much alive and yes, still a primary means by which people are brought face to face with their sin, eye to eye with a Savior, and to the very heart of repentance and forgiveness!
Harvest America was a demonstration of that. It was not the end all, nor will it ever be that. But it is a statement to the church that in order to reclaim our nation from the degradation of its ways, political solutions are not sufficient, political leaders are not capable, and acts of social justice make us feel better, but they don't actually make us better! Only the gospel that can change the hearts of men is sufficient to that end!
John Collins
Executive Director
Harvest America
Did you pray with Pastor Greg?
To help you get started, we would love to send you a free Bible and other resources to help you grow in your faith.
Get Resources
In thanks for your gift . . .
Donate to Harvest today, and we will thank you by sending you a copy of the Jesus Revolution DVD with streaming code and bonus content.
Support today!