News
The Courage of a Teenager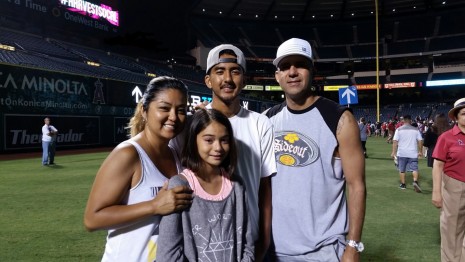 Tears were flowing. Some were down on their knees. The field, again, packed with people. The final night of the 26th Socal Harvest was nothing short of a miracle.
Tomas and his whole family experienced that miracle tonight. At the last moment, the very end of the invitation, Tomas felt an undeniable pull on his heart from God. It came just as he saw his oldest son stand up and begin to walk down to the field. His son, Tomas Jr., did not look back. He went straight down, in obedience, knowing it was what God was telling him to do. Tomas Sr. followed, then his wife and daughter. The family admitted to being far from God. Life had brought them many struggles. In a recent series of events, one being the near death yet miraculous healing of a family member, Tomas Sr. knew he had to lead his family in a different direction. He knew they needed a stronger relationship with Christ. He wanted to be a good example for them, but was not sure what to do next.
Today, the final night of the Harvest Crusade, Tomas Jr. asked if the family would go. They saw many obstacles in their way, but Tomas Jr. kept asking. They jumped through the hoops the day threw at them, stood in line in the heat, and made it in to the stadium. No one knew how the night would end.
"Who would have known that my own son would inspire me with the courage to come down to the field tonight and give my life to Christ," Tomas Sr. questioned. "Now I know, with God's help, I can lead this family the way I am supposed to."
The family held each other on the field and cried together. It was a beautiful moment. The cord that held them all together was Christ. The courage to give it all to Him, together, came from a young teen who could not deny the call from the Lord to surrender.
Did you pray with Pastor Greg?
To help you get started, we would love to send you a free Bible and other resources to help you grow in your faith.
Get Resources
Revelation: A Book of Promises
Donate to Harvest today and we will thank you with a copy of Revelation: A Book of Promises.
Support today!