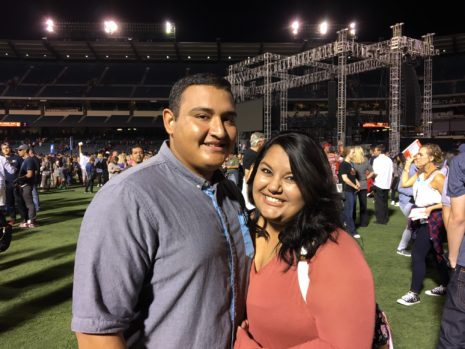 Meet Raquel and Chris. They were lied to today. It happened when they got a knock on the door this morning. Raquel's cousin had showed up from Ontario at their door step in La Puente to invite them to a "music festival."
"Like Coachella?" asked Raquel. "Yeah. Like Coachella," he told them. They got into the car this afternoon and they were brought here to Anaheim to see the Harvest Crusade. Tonight they both recommitted their lives to the Lord. Raquel and Chris are newlyweds, married under a year. What a wonderful way to start off their marriage! And as for their cousin, they aren't mad at him for lying to them. They are happily looking forward to finding a new church where they can belong and build their life together. There's nothing better than a marriage built on the firm foundation of Jesus.
Did you pray with Pastor Greg?
To help you get started, we would love to send you a free Bible and other resources to help you grow in your faith.
Get Resources
Billy Graham: The Man I Knew
In his new book, Pastor Greg Laurie shares personal anecdotes and impactful stories from Billy's life and ministry. Get a glimpse of the human side of America's greatest preacher.
Support Now!