'Welcome to the family of God': SoCal Harvest celebrates 30th anniversary with 8,677 professions of faith | Press Releases
"I keep doing these crusades year after year because I want to take as many people with me to heaven as I possibly can."
— Greg Laurie
ANAHEIM, Calif. –SoCal Harvest is celebrating its 30th anniversary of holding crusades in Southern California the same way it did after its first crusade in 1990: with thousands of changed lives.
The three-night outreach event drew 100,000 people to Angel Stadium, where they enjoyed performances by Grammy Award and Dove Award-winning artists, fireworks, celebrity guest appearances and a military appreciation ceremony. But the highlight of the weekend was Greg Laurie's nightly presentation of the gospel.
Each night he invited attendees to make a profession of faith, and each night thousands responded. As the sun set over Angel Stadium on Sunday, 3,852 people had gotten up from their seats and walked onto the field to make a public profession of faith, bringing the total number of decisions to follow Jesus throughout the weekend to 8,677.
"Welcome to the family of God," read the scoreboards at Angel Stadium as fireworks lit the evening sky in celebration.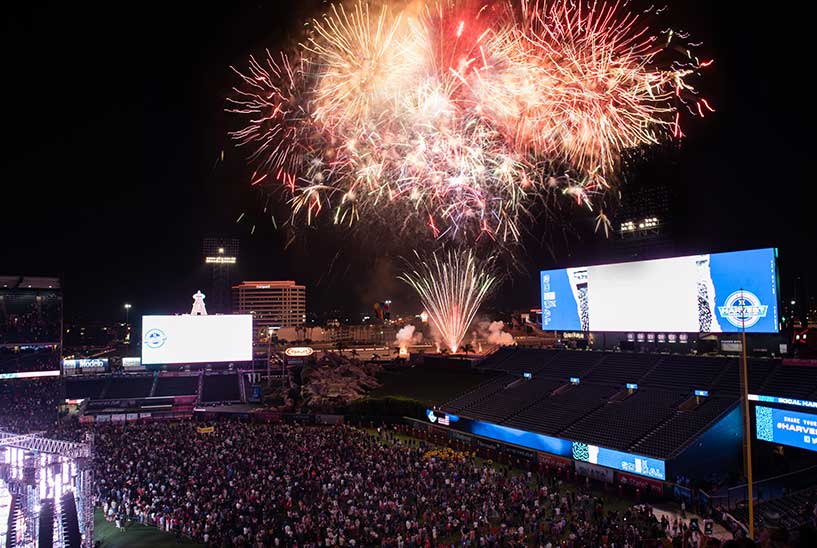 FIREWORKS LIGHT ANGEL STADIUM AS 3,852 ATTENDEES RESPOND TO GOSPEL INVITATION. (CREDIT: HARVEST)
Laurie, who this weekend focused his messages on the theme of hope, delivered a message titled "Happiness, Hope and Heaven."
"Don't put your hope in technology. Don't put your hope in material things. Don't put your hope in politicians. Don't put your hope even in religion.
"Hope has a name, and it's Jesus Christ, and he is here with us tonight, and he is ready to change the course of your life," Laurie said.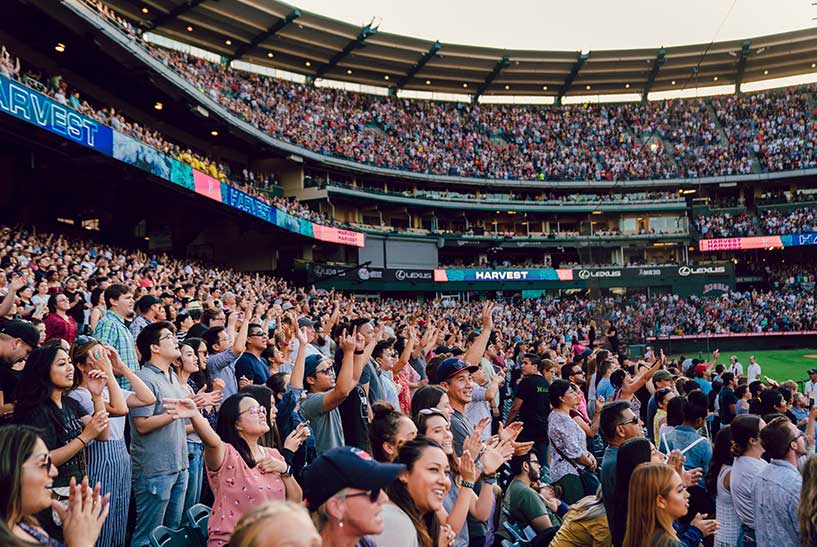 ATTENDEES SING ALONG AT SOCAL HARVEST 2019. (CREDIT: HARVEST)
Earlier in the evening, Laurie interviewed MLB All-Star and World Series Champion Darryl Strawberry, who shared about his upbringing in a home with an alcoholic father, successful baseball career and struggles with substance abuse and addiction. At the lowest points in his life, Strawberry was sentenced to time in jail and sent to rehab, but upon being released, he met his wife Tracy who helped him find faith in Jesus.
Speaking of his struggles, Strawberry said, "Whatever is killing you, Jesus already killed it."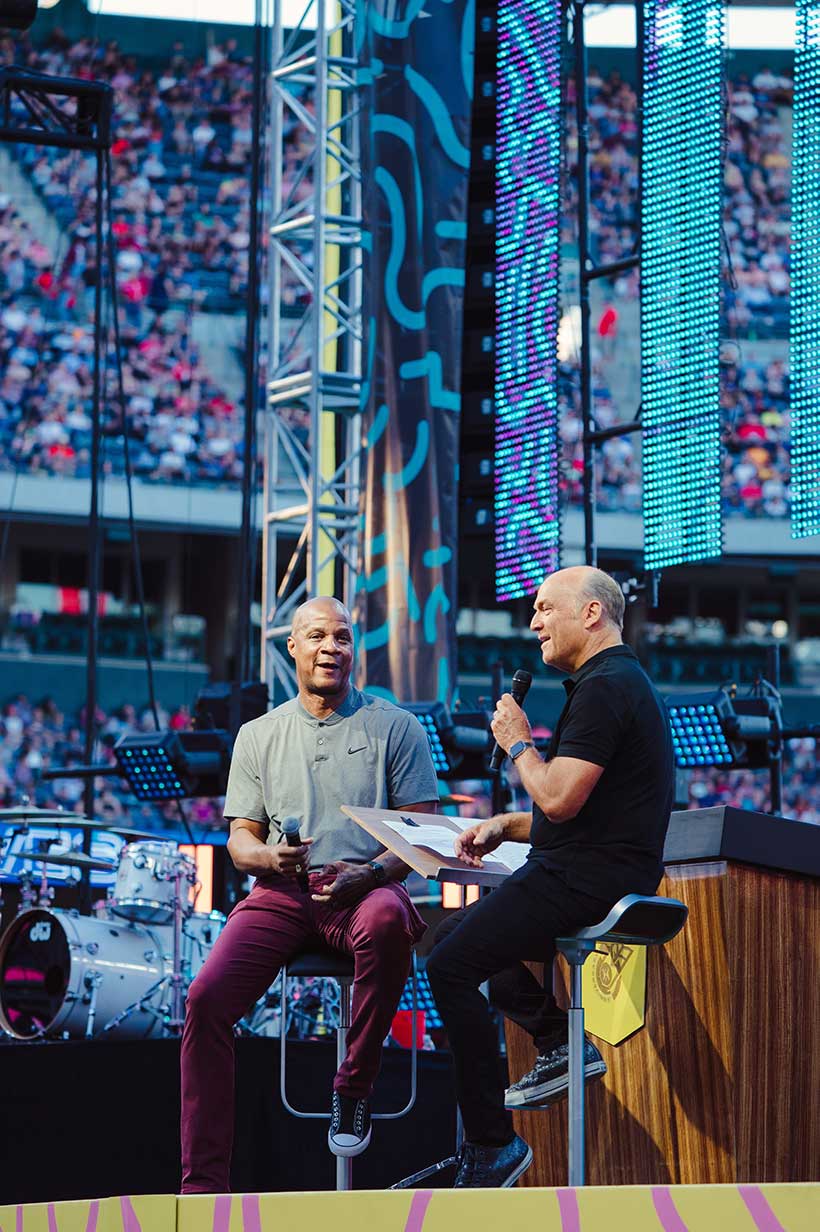 GREG LAURIE INTERVIEWS MLB ALL-STAR AND WORLD SERIES CHAMPION DARRYL STRAWBERRY AT SOCAL HARVEST. (CREDIT: HARVEST)
The final evening of SoCal Harvest featured music by Grammy Award-winning singer-songwriter Chris Tomlin, Newsboys and Phil Wickham. Author and radio host Eric Metaxas offered an opening prayer. The evening ended with a firework show over Angel Stadium.
SoCal Harvest 2019 was the 30th crusade in a row Harvest has put on in Southern California, making it the longest-running evangelistic outreach event in U.S. history. The first two evenings featured performances by Grammy Award-winning pop duo for KING & COUNTRY, hip-hop artist Lecrae, Dove Award-winning singer-songwriter Jeremy Camp, the Passion worship band, guitarist Dennis Agajanian and Graham Saber.
On opening night, Harvest honored military members with a special ceremony that included a U.S. flag unfurled across the stadium's field as Brennley Brown, finalist of The Voice, sang "God Bless America." Former Navy SEAL and Actor Remi Adeleke and Actress Madeline Carroll of the smash hit "I Can Only Imagine" offered opening prayers. Laurie also interviewed film director Jon Erwin along with Jeremy Camp about "I Still Believe," a new film about Camp's life that is coming out in March.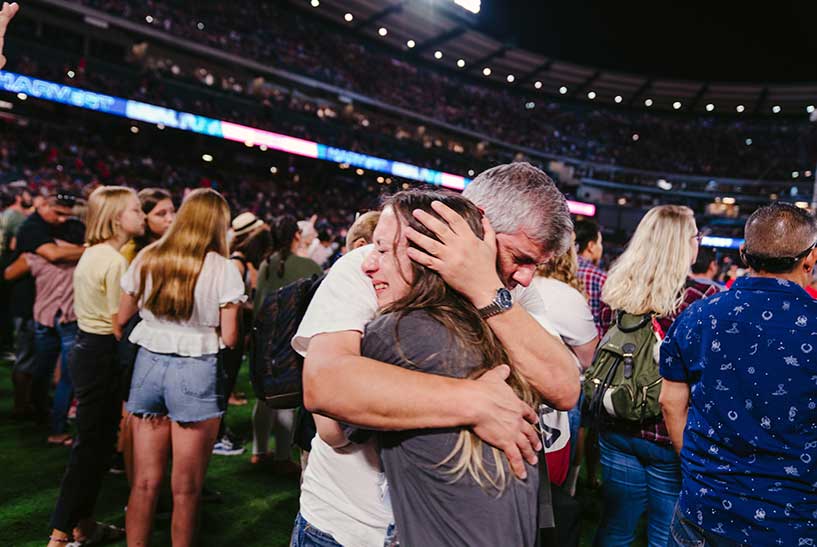 ATTENDEES RESPOND TO ALTAR CALL AT SOCAL HARVEST. (CREDIT: HARVEST)
SoCal Harvest 2019 also was the kick-off event of Harvest's 2020 Vision to launch a "Jesus Revolution" through crusades in Southern California and Boise, Idaho. The tour will end with a crusade in 2021 at Los Angeles Stadium at Hollywood Park, currently under construction. The Harvest team wants to reach over 1 million people and see 100,000 professions of faith through the crusades.
Since 1990, Harvest crusades have been held in the United States, Canada, New Zealand and Australia. More than 8 million people have attended Laurie's crusades in person or via broadcast online and on TV. More than 500,000 people have made professions of faith in Christ at Harvest crusades.
"I keep doing these crusades year after year because I want to take as many people with me to heaven as I possibly can," Laurie said.
MEDIA:
High-quality photos of SoCal Harvest are available through these links:
FRIDAY:
SATURDAY:
SUNDAY:
Greg Laurie is an American author and evangelist who serves as the senior pastor of Harvest Christian Fellowship in Riverside, California, Harvest Church at Kumulani in Kapalua, Hawaii, and Harvest Orange County in Irvine, California. Laurie's latest book, "Johnny Cash: The Redemption of an American Icon," releases in August. You can learn more about Greg Laurie and Harvest at harvest.org.
If you would rather not receive future communications from The KAIROS Company, let us know by clicking here.
The KAIROS Company, 500 N Central Ave Suite 325, Glendale, CA 91203 United States
Did you pray with Pastor Greg?
To help you get started, we would love to send you a free Bible and other resources to help you grow in your faith.
Get Resources