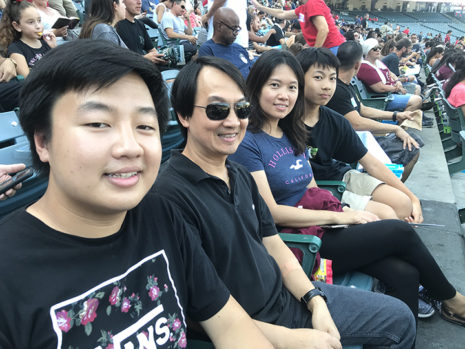 Tonight, as people are funneling in for the final night of this year's SoCal Harvest to see Chris Tomlin, Phil Wickham, Madeline Carroll, and Pastor Greg Laurie, the Liem family made their way into their seats. "This is our third night this year. We love it!" Thania exclaimed. They've made the drive from Redlands, California, all three nights.
Growing up and living in Indonesia, Yohan and Thania met in their twenties. Both were born in China and both of their parents moved to Indonesia because they wanted more than one child. Yohan is one of six children and Thania is one of–believe it or not–twelve! (She has three sisters and eight brothers). Neither family lived near to one another. They just "happened" to have met years later at church (no happenstances with God).
Thania accepted the Lord at fourteen years old, after a friend from high school invited her to church. Yohan became a Christian when he was thirteen after he was invited to a Christian youth retreat and started going to church. "It was tough being both Chinese and a Christian in Indonesia. People would throw things at us and mock us."
Thania and Yohan met at church. They dated for seven years before getting married. They married in Indonesia at the church where they met. They had their first son, Jonathan, when they were in their late twenties and moved to the United States a year later. "We wanted a better future for our family and we wanted to raise our children in a Christian home without fear of persecution," shares Yohan. Their second son, Jeff, was born here in the US.
So let's not forget how blessed we are in America to be free to worship Jesus at a public place such as Angel Stadium. Let's praise God for brothers and sisters we have from all over the world, including a heavily Muslim country such as Indonesia.
Now's is the time to worship!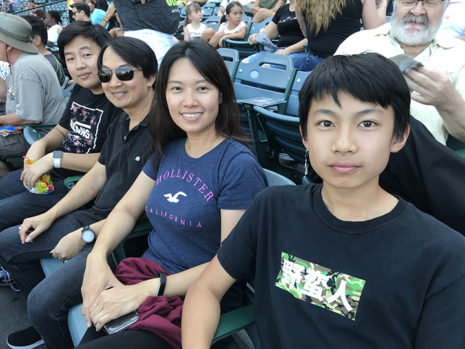 Did you pray with Pastor Greg?
To help you get started, we would love to send you a free Bible and other resources to help you grow in your faith.
Get Resources
Billy Graham: The Man I Knew
In his new book, Pastor Greg Laurie shares personal anecdotes and impactful stories from Billy's life and ministry. Get a glimpse of the human side of America's greatest preacher.
Support Now!