tobyMac has played concerts around the world in front of thousands of people. But he said earlier today that he particularly enjoys performing at evangelistic events like the Southern California Harvest.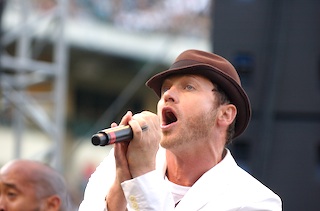 I think the greatest privilege is that I see this [event] as the greatest use of our music. I really do.
To go do a concert ourselves, we just hope that the nuggets of truth God gives us through our music, the audience will absorb them. But in a place like this, it goes beyond the nuggets of truth. Someone follows it up with God's Word, and then they follow it up with an opportunity to respond.
That to me, for our music to be used in a place like this is unbelievable, to see people respond to the gospel. And for us to get the chance to play our songs and to have our songs play a small part in all this, it's just a privilege. I don't know how else to put it.
Did you pray with Pastor Greg?
To help you get started, we would love to send you a free Bible and other resources to help you grow in your faith.
Get Resources
In thanks for your gift . . .
More than 10 million copies of the New Believer's Bible have been put into the hands of people who want to understand what it means to follow Jesus!
Give Now