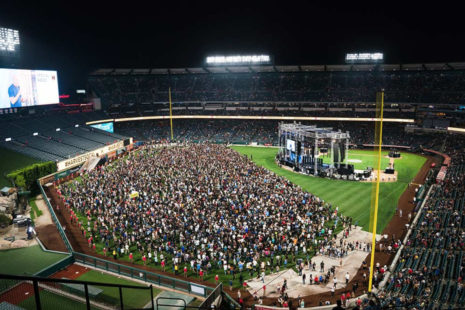 The field was filled with not only people, but also the Holy Spirit. Pastor Greg Laurie called it a Holy Moment.  3334 people came down last night to make professions of faith. You may not realize this, but many volunteers stayed after the event ended, inputting information, so they could be sent an email, text, and/or letter to help them get plugged in a local church and start their new life with Christ.
The journey to the field is just the beginning for these people; we need to be praying for them to find a church that teaches the word of God, that they read their Bibles daily and that they continue to have a relationship with God at through prayer.
If you have questions on how to Know God please visit https://www.harvest.org/know-god/first-steps.
Did you pray with Pastor Greg?
To help you get started, we would love to send you a free Bible and other resources to help you grow in your faith.
Get Resources
Billy Graham: The Man I Knew
In his new book, Pastor Greg Laurie shares personal anecdotes and impactful stories from Billy's life and ministry. Get a glimpse of the human side of America's greatest preacher.
Support Now!